Updo hairstyles exude elegance and sophistication, making them popular for special occasions and formal events. Consider incorporating statement hairpins or jeweled barrettes to elevate your updo to the next level. These glamorous hair accessories add a touch of sparkle, charm, and individuality to your updos, making them stand out. In this article, we explore the beauty and versatility of statement hairpins and jeweled barrettes, offering inspiration for transforming your updo hairstyles into works of art.
A Touch of Elegance
Adding Delicate Sparkle Statement hairpins and jeweled barrettes are perfect for infusing an updo with a touch of elegance. Opt for hairpins adorned with delicate crystals, pearls, or rhinestones to create a subtle sparkle that catches the light. These accessories bring a sophisticated charm to your updo, enhancing your overall look with grace and glamor.
The Power of Embellishment
Creating Intricate Details Statement hairpins and jeweled barrettes offer an opportunity to create intricate details within your updo. Use them strategically to accentuate certain sections or twists of your hairstyle, adding a focal point and enhancing the overall aesthetics. By carefully selecting and placing these accessories, you can achieve a detailed and customized look that complements your style.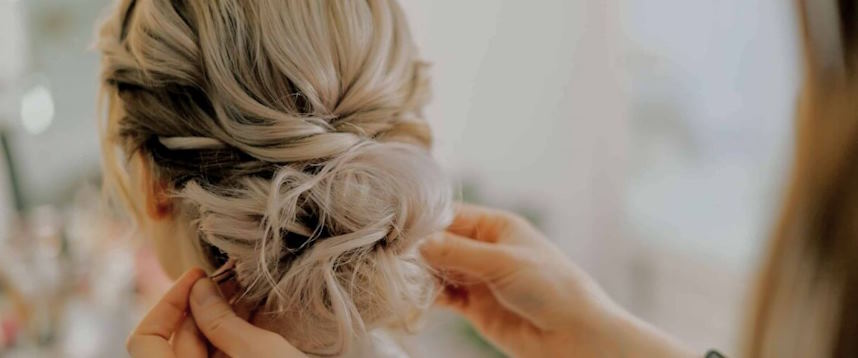 Versatility in Design
Matching Your Style The beauty of statement hairpins and jeweled barrettes lies in their diverse designs. From minimalistic to elaborate, a wide variety suits different preferences and occasions. Choose accessories that reflect your style, whether classic, timeless, modern, edgy, or bohemian and whimsical. Matching the design of your hairpin or barrette with your outfit and the theme of the event will ensure a cohesive and striking appearance.
From Casual to Formal
Elevating Any Occasion Statement hairpins and jeweled barrettes are not limited to formal events. They can elevate casual and semi-formal updos, adding a touch of glamor to everyday hairstyles or enhancing your look for a special date night. Even a simple bun or twisted updo can be transformed into a sophisticated and stylish statement with the right hair accessory.
Easy to Use
Enhancing Any Updo Hairstyle One of the advantages of statement hairpins and jeweled barrettes is their ease of use. They can be effortlessly incorporated into various updo hairstyles, whether a classic chignon, a braided updo, a twisted bun, or a sleek top knot. Simply position the hairpin or barrette where desired, securing it into place, and instantly elevate your hairstyle.
Bridal Beauty
Perfect for Wedding Updos Statement hairpins and jeweled barrettes are particularly popular for bridal updos. They add a touch of luxury and romance to wedding hairstyles, making the bride feel like a true princess on her special day. Whether you opt for a delicate floral design or a dazzling crystal accent, these accessories enhance bridal updos and create a unique bridal look.